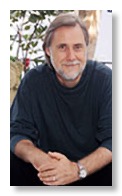 Melbourne born author Geoffrey McGeachin has spent much of his life shooting pictures for advertising, travel, theatre and feature films. His work has taken him all over the world including stints living in Los Angeles, New York and Hong Kong. He is now based in Sydney where he teaches photography and writes.
His first novel, FAT, FIFTY & F***ED! won the inaugural Australian Popular Fiction Competition and was published by Penguin in August 2004. Described by the Sunday Tasmanian as "one of the most exhilarating debut novels in many moons … wildly imaginative, irreverent, bitingly funny, beautifully paced and populated by the sort of characters we'd all love to know", it continues to entertain and amuse Australian and international readers.
Geoffrey followed this up in 2006 with the humorous adventure thriller D-E-D DEAD! which introduced Alby Murdoch – Australian secret agent and international photographer – a man with a taste for good coffee, fine food and interesting women and described by the Sunday Age as "a genuine action hero, with a truly Australian irreverence". D-E-D DEAD! was published by Penguin/Viking and nominated for a Ned Kelly Award in 2006.
SENSITIVE NEW AGE SPY, the second Alby story, was published by Penguin in 2007 and was also nominated for a Ned Kelly Award. According to GQ Magazine, SENSITIVE NEW AGE SPY "crackles with picaresque players and absurd wit. A chuckle-by-the-pool read."
DEAD AND KICKING, the third book in the Alby Murdoch trilogy, was published to excellent reviews in January 2009. The Age's Cameron Woodhead wrote: 'McGeachin channels the ghost of Ian Fleming to entertaining effect in this high-octane adventure with a camp, comic gloss.' The Sunday Tasmanian said: 'McGeachin has a real flair for action-adventure writing. His pacing is excellent, his ever-changing scene locations are richly detailed and his plotting is intricate without being cumbersome. Throw in his inimitable sense of humour and you have a sensational combination.'
His fifth novel, THE DIGGERS REST HOTEL, is a crime story set in Albury-Wodonga, and it marks a change of direction for McGeachin. The hero is hard-boiled detective Charlie Berlin, an ex-bomber pilot and POW with a dark past. Published in June 2010 it was described by Christopher Bantick in the Weekly Times as '... a bottler of a book ... terrific in all respects.' With the Hobart Mercury reviewing it as '...a fiesty, beautifully researched thriller ... shot through with brilliant insights and great dialogue, fitfully lit by explosive flashbacks to battle in the air.'
THE DIGGERS REST HOTEL won the 2011 Ned Kelly Award for Best Fiction, presented by the Australian Crime Writers Association, and was also one of ten titles selected for the State Library of Victoria's 'Summer Reads Program' 2010/11.
In the second Charlie Berlin novel, BLACKWATTLE CREEK, published in 2012, Berlin discovers a Melbourne funeral parlour has been burying bodies with parts missing. Charlie's investigation leads him to Blackwattle Creek, once an asylum for the criminally insane and now home to even darker evils, and if he thought government machinations during World War II were devious, those of the Cold War leave them for dead. Declared a "ripper of a yarn", Blackwattle Creek was described by fellow crime writer
Angela Savage
as "dark crime fiction that also sparkles with wit and warmth", by the Sunday Tasmanian as "compelling, engrossing and a surprisingly touching read" and by Amazon readers as "intelligent Aussie Crime fiction" and "as touching as it is terrifying".
BLACKWATTLE CREEK won the 2013 Ned Kelly Award for Best Fiction.
The third novel in the Charlie Berlin series, ST KILDA BLUES, is out now.
Geoff is represented by
Selwa Anthony Author Management.


ST KILDA BLUES
BLACKWATTLE CREEK
THE DIGGERS REST HOTEL
DEAD AND KICKING
SENSITIVE NEW AGE SPY
D-E-D DEAD!
FAT, FIFTY & F***ED!