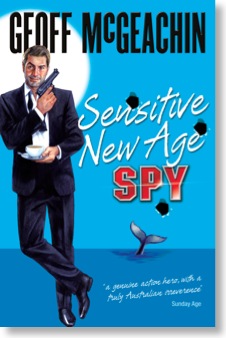 Special agent Alby Murdoch – the reluctant hero of the riotous adventure thriller D-E-D Dead! – is right back in the thick of things in another hilarious, page-turning romp.
It's a sunny holiday Monday and all Alby wants is a decent cup of coffee and a day off. But there's a hijacked tanker with a deadly cargo in Sydney Harbour and bullets are flying on board a US Navy cruiser. Three sailors are dead and a Seahawk chopper is missing.
space
Who's behind the mayhem? Why is the government intent on shutting down Alby's investigation? What's the connection to the smooth-talking Reverend Priday, spiritual leader to the upwardly mobile, and Artemesia Gaarg, reclusive heiress on a crusade to save the whales?
space
And can Alby trust his new buddy Lieutenant Kingston – US Navy weapons specialist, brown eyes, blonde hair, the longest legs he's ever seen on a sailor, and not a single tattoo anywhere on her stunning body?