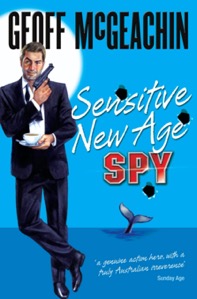 REVIEWS
GQ Australia, Winter 2007
"McGeachin's espionage yarn crackles with picaresque players and absurd wit. A chuckle-by-the-pool read."
WHO MAGAZINE HOT LIST
June 18, 2007
"Detect a good read"







CRIME DOWN UNDER.COM
"... a highly competent larrikin..."
"Alby Murdoch is back for a second sensational undercover romp in SENSITIVE NEW AGE SPY ... this is the way all spy novels should be written, mixing the serious stuff with plenty of irreverent humour, fronted by a guy who wins some, loses lots but comes across as a highly competent larrikin ...
SENSITIVE NEW AGE SPY is about as Aussie as a spy book can get ... but hiding quietly behind the lighter tone is a slightly more serious message waiting unobtrusively to be grasped. It's an environmental reminder of the delicate balance of nature and our part in it, and similar to Carl Hiasasen's more offbeat comic thrillers, McGeachin makes his point well ...
There's a theft, there's a major international incident in the offing, there's danger, there's even a little bit of steamy sex but there's plenty of humour and entertainment from go to whoa...
For a high stakes battle of wits that begins at a desperate pace before growing even more furious, SENSITIVE NEW AGE SPY is completely entertaining and Alby Murdoch has become even more established as an all-Australian hero."
Damien G.
afterdarkmysweet.blogspot.com
GOLD COAST BULLETIN,
June 9, 2007
" ... a hero never too good to be true."
"Superheroes and secret agents are back in vogue. Now Australia has its own hero ... in super-spy Alby Murdoch, author Geoff McGeachin has created a character who balances heroism with humour and is always ready for action ... after his morning coffee.
Alby first appeared in the riotous D-E-D DEAD!, immediately connecting with readers keen for a good laugh with their escapism and a hero never too good to be true.
Alby returns in SENSITIVE NEW AGE SPY, a rollicking yarn ... McGeachin ensures the action and irreverence are in abundance as Alby pursues the villains, fights for his life, tries to prevent a nuclear catastrophe and still finds time for occasional bouts of love-making -- always brilliantly executed -- and demonstrations of his gourmet cooking skills ... a bloke who knows his wine, women, weapons and wackos.
In his new adventure Alby's having a whale of a time ... exciting, entertaining and entirely lacking in pretension."
Michael Jacobson
SUNDAY TASMANIAN,
June 24, 2007
"Cheekier than a catwalk full of G-string models ..."
"Rarely, if ever, has the potential loss of millions of lives provided as many belly-laughs as in Sydney-based author Geoff McGeachin's latest novel.

SENSITIVE NEW AGE SPY sees the very welcome return of photographer-cum-spy Alby Murdoch. Cheekier than a catwalk full of G-string models, as tough as overcooked calamari, but as tender as a medium-rare eye fillet, Alby made an indelible impression when he risked his life getting to the bottom of an international conspiracy in D-E-D DEAD!
space
... (In SENSITIVE NEW AGE SPY) Alby joins forces with the beautiful Lieutenant Clare Kingston, a security officer with the US Navy. Their investigations turn up a fascinating array of characters, from the sleazy Reverend Priday and his stunning wife and daughter, to the wealthy environmentalist and philanthropist Artemesia Gaarg ... (and) eventually leads Alby to Tasmania, where a fittingly frenzied finale beautifully fits together all the pieces of the puzzle.
This is only McGeachin's third book, but he is quickly establishing himself as one of Australia's foremost authors of popular fiction. McGeachin is blessed with the ability to engage the reader from the very first page with his fluid narrative style, intelligent plotting, engaging characterisations and sophisticated humour (the 'map of Tassie' reference aside).
And while on one level his literary skills make for an effortless read, he also dishes up more than enough food for thought to satisfy the appetite of the most discerning reader. With winter wrapping Tasmania in its icy grip, this book is an ideal way to spend a few hours curled up in front of a roaring fire."
David Fleming