THE DIGGERS REST HOTEL -
AUDIO BOOK REVIEWS
Read by
Peter Byrne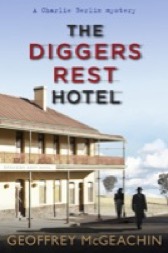 Library Journal USA
"... surprises and delights ..."
Australian crime fiction writer McGeachin suprises and delights with this examination of a flawed hero -- police detective and former prisoner of war Charlie Berlin -- set in 1947 rural Australia. What starts off as an inquiry into a series of armed robberies soon becomes a murder investigation. Setting this story apart is its subtle study of the psychological effects that war had both on those who survived the front and on those awaiting loved ones at home.
Melbourne-based actor/broadcaster Peter Byrne's narration is outstanding for its rich inflections and ability to carry the tale. Bolinda Audio brings this first Charlie Berlin mystery to U.S. audiences, who do not yet have the benefit of a print edition; listeners can only hope many more will follow.
Scott R. DiMarco, Mansfield University of Pennsylvania Library
AudioFile Magazine 2011
Narrator Peter Byrne's rich Australian accent brings an authentic touch to this gritty story. Byrne's skilled narration allows the complexity of the detective to be revealed as he portrays the likable but troubled character. Listeners soon discover how the former bomber pilot and prisoner of war has many personal challenges to overcome as well as a difficult investigation to undertake. Byrne differentiates between characters using subtle and consistent techniques that make this an easy book to listen to, even if the subject matter is often weighty.
K.J.P. AudioFile 2011, Portland, Maine.


www.bolinda.com/aus/search/results.aspx?/1/7376878E-8809-48EA-AA14-6C1B9B6E66C2/1/5/1/1/1/1/1/4/mcgeachin