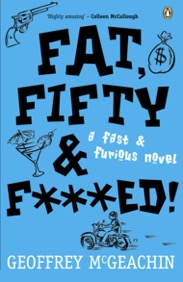 REVIEWS

"Highly entertaining!"
- COLLEEN McCULLOUGH
space pace
SUNDAY TASMANIAN
November 7, 2004
"Rib-tickling romp of a novel"
"Geoffrey McGeachin has come up with a rib-tickling romp of a novel… Quite simply, this is one of the most entertaining and accessible Australian books to come along in years. From the first page to the last, the story unfolds seamlessly, with the brilliant humour playing as a perfect backdrop to Martin and Faith's journey of self-discovery. In keeping with the alliteration of the title, this book is Fun, Fantastic and Fulfilling."
David Fleming


SYDNEY SUN-HERALD
August 22, 2004
"Fast-moving and extremely funny"
"Geoffrey McGeachin's debut novel is fast-moving and extremely funny and features some wry observations on Australian attitudes. It's wildly unbelievable and extremely hard to put down. Grab a glass of good red, prop yourself in front of the fire and get ready to be entertained."
Winsor Dobbin
SYDNEY MORNING HERALD
October 2, 2004
"Inspired lunacy"
"Geoffrey McGeachin has made a distinguished contribution to the genre of mid-liferature, works which invariably remind us that the worse things get, the riper they become for comedy. Perhaps McGeachin does knock off one joke from Billy Connolly, but if Connolly has any brains he'd knock off a few of McGeachin's. Talk to your financial planner about how to achieve some of this inspired lunacy for yourself."
Michael McGirr
THE LAND October 7, 2004 "Uproarious tale" "An uproarious tale about a dejected bank manager whose mid-life crisis takes him on a bizarre road trip across Australia and into some hilarious, if at times vulgar situations. But what's wrong with that? After all, this is basic Aussie humour; most people will love it."

SYDNEY SUN-HERALD October 10, 2004 "Simply a great read" "…. the hero and heroine's engaging personalities and romance drive the narrative as strongly as the Boy's Own-style action. Women will enjoy the book just as much as men. It's simply a great read." Amy Cooper

QUEENSLAND TIMES August 19, 2004 "A rolicking ride" "This story is so far fetched - and it works so well. McGeachin pushes his characters to do the most outlandish things - not implausible behaviour but actions that jump over that boundary of everyday, mundane life. A rollicking ride – sure to appeal to adults of both genders. A very entertaining read and you'll find yourself secretly cheering for Martin and his amazing cure for a midlife crisis."

CRIME DOWNUNDER January, 2006 "Terrifically amusing and pacy story ... effortlessly entertaining"
"Now how can you not be intrigued by the title of this book? The good news is that it delivers on the promising title with a cracking story inside. Part fugitive adventure, part love story and part action thriller, life touring the Australian open road by motorcycle and campervan has never been so fraught with danger, nor have the encounters with off-beat Aussie 'funny buggers' been so high. Fat, Fifty & F***ed! is Geoffrey McGeachin's debut novel and is a terrifically amusing and pacy story of life on the run ... McGeachin writes with a cheeky good-humoured tone that places every situation on a borderline farcical level, yet still zips in a more serious message ... a story about escape and renewal ... from a boring, failing life, from cancer, from a dead-end job and a failing marriage. There is an exciting vitality to their new life that is instantly palpable in a very breathtaking way ... a very satisfying adventure/romantic comedy with an undercurrent of impending danger that is relentlessly overpowered by the irrepressible personalities of the principal characters ... an effortlessly entertaining story that will have you itching to hit the open road yourself." Damien G.

Casey Cardinia Library, Cranbourne, Victoria - Reader reviews
"Hilarious" 5 Stars "We drove the Newell to Queensland and this book had us in stitches. The teenagers in the back laughed out loud ... it was so good on the way up, we had to listen to it on the way back." Caddie, Melbourne
"Laugh-out-loud Aussie gem of a book" 5 Stars "... A fabulous surprise. A real laugh-out-loud Aussie gem of a book ... effortlessly entertaining, irreverent and laconic. The brilliantly-crafted characters are having the time of their lives in this well-paced mix of crime, adventure and love. Reading Rewards, Melbourne
"Outstanding" 5 Stars
"If all books were as good as this one they could not sell a television. I have never laughed so much to the point of tears in my eyes. I have now read all his books which are just as good." Uncle Buck, Geelong