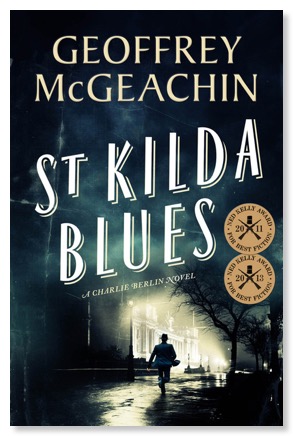 REVIEWS


suncoastbookreviews.com -
5
Stars -
Highly
recommended
"Possibly the best Australian police crime thriller I have read and at the top of my list of police crime thrillers worldwide ... great characterisation, solid police work, good intertwining of police and personal plot lines, well researched historical background and above all lots of plot twists which come together with an amazing emotional impact."
www.suncoastbookreviews.com
Sarina Gale, Books + Publishing, 20 March 2014
"A terrific read"
"... As his past and present collide, Berlin faces some of the toughest questions of his career. From Kodak film rolls to foil-capped milk bottles, McGeachin has created a pitch-perfect sense of Melbourne in the 1960s. This is a terrific read with great plot twists, complex characters and a menacing atmosphere."
Sydney Morning Herald, 13 July 2014
"A harrowing thriller with an intriguing setting, this is an excellent outing from McGeachin."
Michael Popple
www.austcrimefiction.org -
May 2014
"Clever, moving, fabulous" -
5
Stars
"This series is as much a character study of Charlie Berlin and the after effects of war, as it is a police procedural. It's the great strength of these three books, and why they are increasingly earning the attention and commendation that they deserve ... alongside the brilliant character portrayal there's also a really strong sense of place and time."
Karen Chisholm
www.austcrimefiction.org/review/review-st-kilda-blues-geoffrey-mcgeachin
www.readplus.com.au
"Geoffrey McGeachin is my favourite crime writer at the moment."
" ....
His mastery of a chilling narrative from the serial killer, his portrayal of family relations and his wonderful depiction of the 1960s era make this a stand-out detective story, equally as good if not better than his previous award winning novels. This is one series that I will happily follow."
Pat Pledger
http://www.readplus.com.au/blog_detail.php?id=4677
fairdinkumcrime.com
"There is such an assured hand behind these crime fiction novels ... there is plenty in this novel for the reader to think about. The historical validity owes a lot to meticulous research, while the principal characters come through loud and clear."
Rated: 4.9
https://fairdinkumcrime.wordpress.com/2014/05/08/review-st-kilda-blues-geoffrey-mcgeachin/
Book'd Out
"
St Kilda Blues
is a fine example of Australian crime fiction that combines outstanding character with accomplished storytelling, and I recommend it, and the entire series, without hesitation."
Shelleyrae Cusbert
bookdout.wordpress.com/2014/05/29/review-st-kilda-blues-by-geoffrey-mcgeachin/